In these crazy times, we utilized what we know best and that's chemistry baby! We can't TECHNICALLY say that it will kill microbes, but take comfort in knowing that we use 99.9% isopropyl alcohol and it makes up 65% of the product. This is a water free hand cleanser! 
Directions: Make sure to always opt to washing your hands, but when you're in a pickle while out and about, spray liberally on hands to cleanse.
Ingredients: Isopropyl Alcohol, Hamamelis Virginiana Water (And) Alcohol, Aloe Barbadensis Leaf Juice, Vegetable Glycerin, Melaleuca Alternafolia (Tea Tree) Leaf Oil, Eucalyptus Globulus Leaf Oil, Mentha Viridis (Spearmint) Leaf Oil, Tocopherol, Mica.
Customer Reviews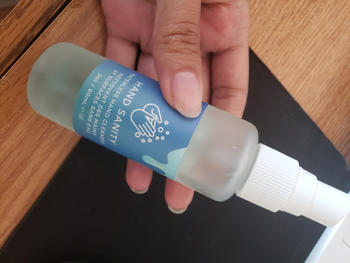 08/11/2020
I recommend this product
The Holy Grail of Sanitizers
During all this pandemic craze, I've tried many sanitizers. Most smell horrid and dry out your skin. Not this bad boy! I've gotten a few to stock up because the spray and glass package makes it easy to carry and use. Not to mention the smell of it! No yucky alcoholy residue. Used it on a few kids as well and they LOVE IT. They say no to the other bottles, but as soon as I remind them it's from Skwiik, they're all over it. Will definitely continue to purchase these.
Salma H.
Canada
Salma!!! Thank you so much for all of the sweet and wonderful words, we truly appreciate it! Skwiik Team
08/09/2020
I recommend this product
Hand Sanity
I love this hand sanity Skwiik makes!! Amongst their other bath products. Definitely be purchasing again when I'm out
Melissa M.
Canada
Melissa! Thank you so much for your kind words, we appreciate you! Skwiik Team
07/04/2020
I recommend this product
Love !
I love this spray! I can spray my toddler's hands quickly on the go and she doesn't find it irritating on her skin. The smell is quite mild compared to other sanitizers I've tried and isn't overly drying.
Jillian G.
Canada
Jillian! We are so happy that out hand sanitizer works so well for your little one! Thank you so much for supporting and leaving a kind note! Skwiik Team
06/13/2020
I recommend this product
Heavenly spray
Love the packaging - the glass bottle really gives a nice feel. The spray feature makes it messy proof. Now the smell ooooo now that's something elSe. Imagine essential oils in place of yucky alcohol smell. Formula doest dry my hands out either. Loooooove!
Salma H.
Canada
06/02/2020
I recommend this product
Amazing!
My skin is looking better already and it's only day two
Anonymous
Canada
04/16/2020
Put this on everything!
I've been spraying this on everything!!! Plus it doesn't dry out my hands which is a major plus.
Tara D.
United States
Tara! We are so happy that our Hand Sanity is helping to keep you safe, sound, and hydrated (gotta love that aloe vera juice)! Skwiik Team
04/16/2020
Hand sanity is awesome!
Smells great, doesn't leave my hands dry like other hand sanitizers!! As a healthcare professional I am thrilled to have this little bottle with me in the hospital!
Amane A.
Canada
04/15/2020
I have a bottle in all of my bags!
This stuff is great! And such a nice size, I bought three and have one in my two purses and my work bag! Perfect for a quick and easy sanitize!
Kelsey M.
Canada
Hey Kelsey! Yay! We love our Hand Sanity too! Glad it's keeping you safe and protecting those hands from drying with the aloe vera juice floating around in there. Skwiik Team
04/12/2020
Don't have it yet
Unfortunately I don't have it yet because you aren't open on the weekends. I work from home during the day and don't have enough time at lunch or after work to pick it Up. I've went an email but have gotten no response.
M B.
Canada
Michele! We are happy that we were able to get your goodies to you. Hope you're enjoying them now that they are in good (sanitized) hands! Skwiik Team
04/11/2020
So good!
Love that it is a spray! Doesn't dry out my hands!
Maegan P.
Canada
Maegan! Grateful to know you're loving your Hand Sanity and that the aloe vera juice in there is leaving your hands soft and happy! Skwiik Team