We teamed up with incredible local companies - Milkjar Candle Co. and Apt. 6 Skin Co to create a little mini vacation for you in a box! We especially wanted to team up with Apt. 6 and here is why... 

Skwiik & Apt 6, should be competing for the same customers, no? NO! We want to support each other as women and use this pandemic to show that we should be uplifting each other! Our incredible community has shown us their loyalty time and time again. There is enough for all of us (looking at you toilet paper hoarders)!
We absolutely LOVE Apt. 6 and can't wait for you to try!
Let's use this pandemic as a way to connect to our true nature of being human. Let's be here for each other. We need to be kind to businesses, neighbours, family, friends, and of course ourselves.
Now to da GÜD stuff!
This quarantine kit contains:
1 Skwiik Hand Sanitizer
1 NEW Skwiik Watermelon + Mint Lip Balm
1 Skwiik Tahiti Body Polish
1 Milkjar Hawaii Candle
1 Apt. 6 Cedarwood + Fir Deodorant (made with beeswax from a local bee keeper, ethically sourced)
1 Amazonite + Lemongrass Bath Bomb (Amazonite is a healing gem to bring you comfort during these uncertain times)
1 Lisa Simpson holographic sticker
This kit is worth over $100!!
Keep for yourself, or send to a friend!
Customer Reviews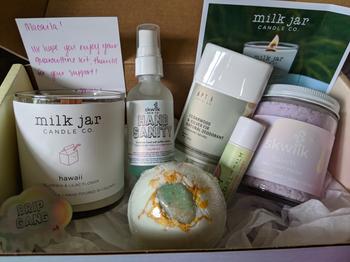 06/12/2020
I recommend this product
Absolutely love it!!
I wasnt too sure what to expect since I had never tried any of the items before (but not worried because I love everything skwiik, I've learned) but everything was so perfect and I love everything product. Would definitely buy again and I couldn't recommend it more
Macaila L.
Canada
Macaila! You angel, thank you so much for those kind words! We are so thrilled that you are loving your Quarantine Kit so much! Skwiik Team
06/12/2020
I recommend this product
The best ever!
Oh my goodness! This quarantine kit was exactly what I needed. It was clearly curated with care and I have enjoyed every product. They all smell amazing! The APT 6 deodorant is the best natural one I've ever used. The body polish, bath bomb, lip balm and amazing Milk Jar candle smell amazing and continue to give me moments of serenity during these chaotic times.
Maria E.
Canada
Maria! We are so happy that your quarantine kit gave you what you were needing! Thank you so much for supporting, we are thrilled that you're enjoying your curated box! Skwiik Team
11/20/2020
I recommend this product
Quarantine Kit
Amazing! Looks so fantastic and smells so good. It is a Christmas gift, haven't used it yet.
Anonymous
Canada
10/02/2020
I recommend this product
Lovely products.
I really enjoyed the bath bombs, especially cereal milk and cotton candy. Every item smelt great, and I am happy to support a Calgary brand. :)
Kristyn N.
Canada
Kristyn! Thank you so very much for sharing your love with us! We really appreciate, hope you got to sink into some calm with the bath bombs. Sending love, The Skwiik Team
07/12/2020
I recommend this product
LOVE
I use the lip chap and hand spray nearly every day. The candle smells AMAZING! I have yet to try the bath bomb or deodorant but am looking forward to it. Great products and a great little set.
Jaime L.
Canada
Jaime! We are so so thrilled that you're loving your Quarantine Kit goodies! Excited for you to try the rest of the set! Skwiik Team
07/04/2020
I recommend this product
Must Buy
This box brought me so much joy during a stressful time! The candle smells incredible as does the lip balm, the natural deodorant works without being irritating and the hand sanitizer is a must try. Overall this box is a must buy if you are looking to pamper yourself or as a gift for someone you adore.
Jillian G.
Canada
Jillian! So happy that we were able to bring you some happiness during the stress you were experiencing. Happy to hear you're loving the kit so much! Hope you have a beautiful day! Skwiik Team
06/14/2020
I recommend this product
The Quarantine Queens do it again!
Another amazing self care box from the collaborative efforts of three fantastic local businesses! Seriously, go buy it now! ;)
Kelsey M.
Canada
Kelsey! Thank you so much for being a friggen queen yourself! We appreciate you so much and are so thrilled you're loving your kit! Skwiik Team
06/13/2020
I recommend this product
Amazing as always
Love these products and this company. Great quality!!
Jennifer G.
Canada
Jennifer! We are so thrilled that you are loving your Quarantine Kit! Thank you so much for supporting! Skwiik Team
04/28/2020
Smells like a tropical getaway
High quality items and such a nice treat during **** a stressful time. Especially given that I am currently 23 weeks pregnant.
Megan G.
Canada
Megan! We are so happy that you're loving your quarantine kit and that it is able to help bring you a little bit of joy during this difficult time! Skwiik Team
04/15/2020
Queens of My Quarantine
This was an incredible box! Every product was beautiful and smelt amazing! The perfect pick me up during quarantine. I see why they sold out so quick!!
Kelsey M.
Canada
Kelsey! You angel, YOU are the queen of our quarantine! Thank you for being such a huge Skwiik support, we are so happy you're loving your goodies! Skwiik Team